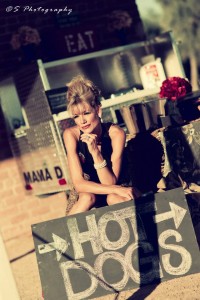 I always wanted a hot dog cart, well at least for the last 14 years before I actually bought one. Crazy I know. Most people are shocked to hear that. Then again the people who know me best know my spirit, my drive, my creativity, my spunkiness, and my unique ability to think outside of the box. What finally inspired me to start my business (note…I always had an entrepreneurial spirit) was that fact that I was a mom, a mom of 1-year-old twin boys at the time and a 4-year- old son. Many of you parents can relate to this question; how do you find a balance between work, raising a family and being able to support them adequately? Those thoughts ran through my head constantly. I knew for myself personally, the only way I could balance all of this was if I ran my own business where I had control over my work schedule and, if need be since I'm the boss, I could always bring my kiddos to work with me. Many of you have met my little dudes that I adore and who continue to be my sunny spot every single day. I'm blessed and fortunate to have found something that I love to do and to have that balance of motherhood and work that we strive to create.
My hot dog cart is unique and unlike anything you have experienced. When I finally bought my cart I really did not have a clear vision for exactly what I was going to do. Crazy I know, but once again those of you who know me also know that I usually do everything backwards! I did know I wanted to make it cute, inviting, and appealing, so that's what I did. Every time I was out and about with my kiddos I would spot something I could use for work and eventually it all came together. My boutique hot dog cart is a bit vintage, a bit shabby-chic, and a whole lot of fun. A few other things that inspire me are the vintage pin up looks, and also my late grandmother Virginia Madsen who always wore bright red lipstick and big jewelry. Sometimes you will see me in her pearls and vintage winter hats. It all falls together to complete Mama's Dogs, the vintage look, the good 'ole American dogs, kettle cooked chips, coke in a bottle, and of course ME!
A couple other things you may want to know. I named my business Mama's Dogs after my three little boys who inspire me daily with their creativity and love. It's a bit of a scary thought to take a risk and start a business, but if you're thinking about it just do it. I was able to start up my business after my Dad passed away. He was one person in my life that always said I could do anything. I want to thank my family especially my Mama who taught me how to work hard and keep going no matter what the circumstance may be, to always believe in myself, and to remember that this too shall pass when things aren't always sunny. I also want to thank my friends who have been supportive of my journey and the wonderful people at Sweet Salvage who let me set my cart up when I had no idea where the heck I was going to go with it!
If you're planning a party, holiday event, birthday bash, corporate event, wedding, anniversary, reunion, baby shower or any reason to have some good food and good fun, call Mama's Dogs the one and only boutique hot dog cart. Your party will be unlike anything anyone has ever seen. Trust me, I know. That's what people are sayin'!
When you experience Mama's Dogs, it's not like you're walking up to a hot dog cart, it's like you're walking into a cozy café. Who would have thought a hot dog cart could be so darn cute!
Call me today!
602-321-1265
Love, Mama
(Carissa)